I didn't cut too many people, and if I talk to you quite a bit (or I've known you for years), you don't have to worry about being cut XD
Did a friends cut, since I'm not on here every day anymore and it takes me a while to get through my list.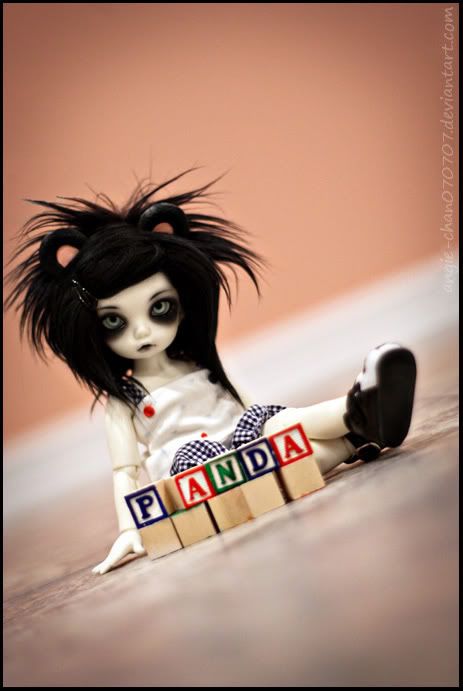 Name:
Moo Ling aka Panda
Age:
None (she acts really young)
Mold:
LTF Bisou girl
Faceup:
by
house_of_raila
Arrived:
June 26, 2010
Birthday:
June 26th
Race:
Unknown
Sexual Orientation:
None
Personality:
Friendly, silly, happy
Relationship Status:
None
Other Relationships:
Loves to play with
artemiselani
's Miz and Alice
Background:
[Coming soon]
Other:
Panda is mute, but she's very good at expressing herself in other ways
+ Shipping for most items will be $2.50 flat unless multiple items are purchased.
+ I will ship internationally.
+ All items come from a smoke free environment. I do have cats and a dog, but I will do my best to make sure the clothes are hair free!
+ Paypal preferred.
+ Note: Now that I've started college I will only be able to ship Wednesdays! Sorry for any inconvenience!
(
Clothes and accessories
Collapse
)
Most of the same things I've been working on selling, but I added a Luts boy hand and some 18mm eyes.


You don't have to say "I want to stay!" (unless y'know, you want to XD) because there's a lot of you that are staying. It's just that there's some people that have friended me that I don't even think read my journal, so if they don't speak up I suppose I was right.

Now if I do end up cutting you and you didn't see this post, but wanted to stay, let me know and I'll re-add you. I like my flist, I just need to clear it out a little.
Yeah it's that time again.
Current Mood:

hungry
Name:
Oz
Age:
None
Mold:
Dollti Dong-E (B set)
Faceup:
Me
Arrived:
April 23, 2009
Birthday:
April 23rd
Race:
Spyware
Sexual Orientation:
None
Personality:
Very quiet, reserved
Relationship Status:
None
Other Relationships:
O'Malley (Puki PongPong owned by
onnawufei
) is his best friend, likes annoying Frank (Soom Amber owned by
onnawufei
)
Background:
Oz was created to steal peoples' identities, or just grab bits and pieces of useful information. He was around long before the "anti-spyware" software was around, so he was safe for awhile until one day O'Malley ended up finding him on someone's computer that had that software and knew Oz would be destroyed if he didn't "save" him. Of course since Oz is surprisingly smaller than O'Malley, he gets bossed around quite a bit.
Other:
Oz never talks unless he has something important to say, or if he's pestered enough (namely by O'Malley)
Doll stuff here
This stuff is for HUMANS. I'm willing to lower prices a little if you really want something, because I
really
need the money.
Paypal preferred, I'm also okay with money orders. I will only hold items for 24-48 hours, NO EXCEPTIONS. Shipping will depend on where you live/how heavy things are.
If you want more pictures, feel free to ask. Everything will be rubbed down with a lint roller before being sent out, as we do have a cat who sheds.
(
Read more...
Collapse
)
Current Mood:

hopeful
Since I really need money, I'm selling a bunch of stuff. Some of this I've already been selling, but quite a bit of it is new.
Current Mood:

hopeful
Name:
Jordan Elros
Age:
23
Mold:
CP Shiwoo
Faceup:
by
skully_bean
Arrived:
December 1, 2008
Birthday:
July 19th
Race:
Half elf, half vampire
Sexual Orientation:
Straight
Personality:
Geeky, dorky, silly. He's far more sensitive than any straight man should be.
Relationship Status:
Engaged to
onnawufei
's Ka.
Other Relationships:
Jordi Truant is his half brother
Background:
Jordan basically grew up like a normal boy, aside from not being able to go into town because of how people treated him. When he dad falls ill and is pretty certain he's not going to live, he tells Jordan to find his brother. Once his dad has passed, Jordan makes sure to do just that. Whenever he finds Jordi, it takes them a little while to get used to each other, but they end up caring for each other quite a bit (although there are a few times where their whole brotherly relationship is pretty damn rocky). While he's there Jordan ends up being scared shitless by Ka Esatia, although once she stops making him cry the two quickly end up in a relationship. Skip to now, and he and Ka are engaged and going to have a baby soon.
Other:
The tips of Jordan's ears are extremely ticklish. Jordan loves to read and knows anything and everything about..well anything you could probably think of. Especially sharks.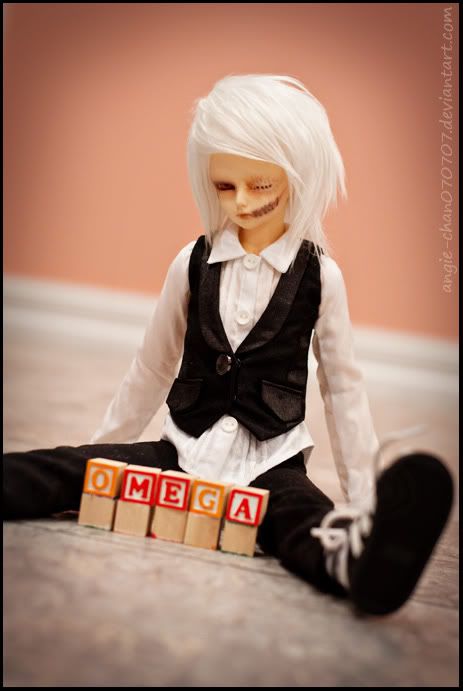 Name:
Omega
Age:
18
Mold:
Fairyland MNF Woosoo (modded)
Faceup:
nezumitoo
Arrived:
June 9, 2008
Birthday:
June 9th
Race:
Human
Sexual Orientation:
???
Personality:
Quite skittish and scared half the time, but he has an amazing sweet side that shows to Layla.
Relationship Status:
Boyfriend to
onnawufei
's Layla.
Other Relationships:
None.
Background:
Omega was kidnapped from his home when he was 3 or 4. He started out just helping around the lab and being a sort of assistant for most of the scientists, but one day ended up being experimented on himself. He doesn't remember his family, or what his short life was like before the lab. As soon as he met Layla, the two became instant best friends and have been together ever since. It took them a few months but eventually they were able to escape the lab and currently live together in an apartment.
Other:
Omega has a horrible stutter, which makes him seem even more nervous and scared than he really is.
Name:
Malakai Harper
Age:
23
Mold:
Migidoll Ryu
Faceup:
by
shirl_li
Arrived:
February 11, 2008
Birthday:
February 14th
Race:
Human
Sexual Orientation:
Bi
Personality:
Bastard, crazy, psycho. Behind all his bastardly ways, he's really a broken, sweet man.
Relationship Status:
Dating Daniel Sunderland (Volks F-17 owned by
onnawufei
)
Other Relationships:
None
Background:
Malakai was your typical boy growing up. When he wasn't playing in the dirt, he was taking care of his sick little sister. His dad taught him how to shoot guns and it all basically went downhill from there. When he was 16 he ran away from home when he screwed up and got stabbed in the eye. He eventually met up with Daniel, got drunk enough to let the man have sex with him, and their relationship grew from there during many tortures and killings. He now lives with Daniel at his home, with their crazy cat and weird dog.
Other:
Malakai only lets Daniel call him Mali. He absolutely hates it when anyone else does.